New Token Wall Street Memes Presale Passes $1m
The crypto market is going through a sustained period of innovation, with the newly-launched Wall Street Memes ($WSM) token catching the eye of investors worldwide.
With its presale soaring past the $1 million milestone in record time, $WSM draws on the strength of a robust investment community with over one million followers – affectionately dubbed "degens."
The buzz around $WSM shows no signs of slowing – with many in the investment community backing it to explode once it hits major exchanges.
Wall Street Memes' presale only launched on May 26 – yet nobody could have predicted the remarkable response from retail investors.
At the time of writing, this presale has amassed just over $1.1 million in funding, translating to roughly $300,000 being raised every day.
The enthusiasm surrounding Wall Street Memes' presale has already prompted speculation that it could hit its hard cap of $30,577,000 if this trend continues over the coming weeks.
Early investors can now buy $WSM tokens through the 30-stage presale for $0.0256. However, this price will climb to $0.0259 in the subsequent stage – a 1.2% increase.
By the final stage, the $WSM token will be priced at $0.0337.
This means that those who opt to buy $WSM at the current rate will immediately lock in a paper profit of 31% once the token debuts on exchanges in Q4 2023.
Naturally, this exciting presale structure has already caused a commotion in the trading community, with the Wall Street Memes Telegram channel growing exponentially since its launch.
Visit Wall Street Memes Presale
Fueling Wall Street Memes' impressive fundraising is the project's colossal community – which is far from an ordinary meme coin community.
As of writing, Wall Street Memes commands a remarkable audience of over a million supporters – with the official Instagram account having 523,000 followers alone.
Moreover, the Wall Street Memes Twitter page boasts more than 217,000 followers, while the project's various other Instagram pages collectively pull in an extra 110,000 followers.

The engaged nature of this vast community has earned recognition from high-profile internet personalities like Elon Musk. Musk has interacted with the Wall Street Memes community on two separate occasions – a ringing endorsement of the community's impressive reach.
One of the main reasons for the community's size is the groundbreaking Wall St Bulls NFT collection launched in 2021.
This 10,000-piece collection sold out in just 32 minutes, netting Wall Street Memes' team a cool $2.5 million.
Since then, Wall St Bulls NFTs have continued to be highly traded – with OpenSea reporting that 1,863 ETH worth of these assets has exchanged hands since their launch.
This equates to approximately $3,544,000, based on today's ETH-to-USD rate.
In addition to its thriving community and the success of the Wall St Bulls NFT collection, Wall Street Memes' appealing tokenomics further contribute to its appeal.
Wall Street Memes' tokenomics are designed to empower $WSM holders, reflecting the ethos of the entire community.
Most importantly, there are no backroom private sales or team allocation privileges, ensuring that 100% of the token supply is reserved for Wall Street Memes community members.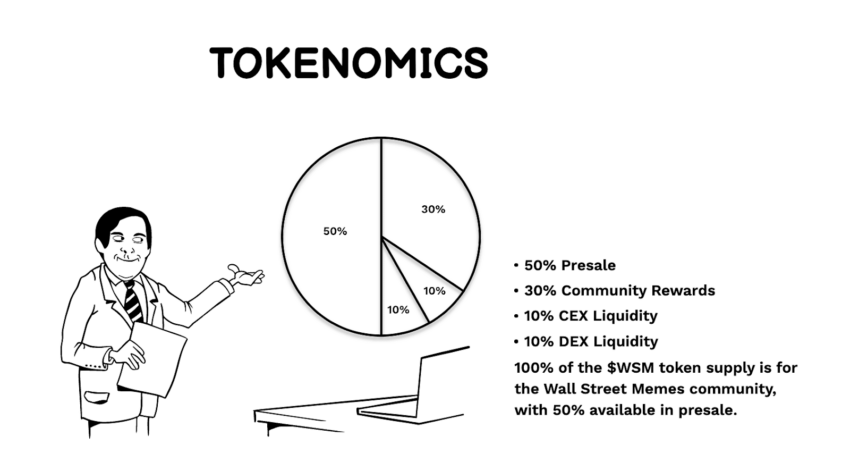 This supply is capped at two billion $WSM tokens, with 50% designated for the presale and 30% allocated for community rewards. The remaining 20% will be used to provide CEX and DEX liquidity.
In the spirit of its community-focused values, Wall Street Memes is already looking to give back through a generous airdrop system.
This recently-announced airdrop will see $50,000 worth of $WSM split between five lucky winners.
The steps to participate in the airdrop are noted on the Wall Street Memes website but include engaging with the project's Discord community and buying $WSM tokens through the ongoing presale.
This lucrative airdrop, therefore, gives eager investors an early chance to acquire $10,000 worth of $WSM tokens for themselves – which could prove fruitful if the token's price explodes once listed on exchanges.
Potential Tier-1 Listings Already on the Horizon for $WSM
Wall Street Memes' community-driven tokenomics and huge retail trader backing are already setting the stage for a possible listing on tier-1 exchanges.
This would be seen as a significant coup for Wall Street Memes, given that it would amplify the visibility of the $WSM token and allow a broader audience of investors to access it.
Scenarios like this often play out with trending meme coins and lead to exponential price increases – and early $WSM holders will be hoping a similar situation plays out once the presale concludes.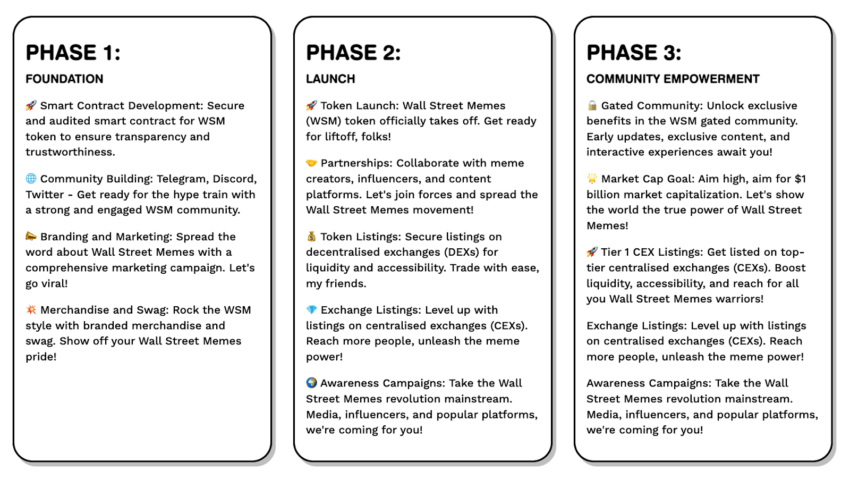 Several prominent names in the cryptosphere are also showing interest in Wall Street Memes due to the project's immense traction.
YouTube influencer Jacob Bury, who has over 17,400 followers, recently posted a video detailing how he invested $3,000 in the $WSM presale – and how he thinks the token has "insane potential."
Ultimately, Wall Street Memes' remarkable early success has already positioned it as an influential player in the crypto market – capturing the attention of investors and paving the way for a promising future.
Visit Wall Street Memes Presale
Disclaimer
This article is sponsored content and does not represent the views or opinions of BeInCrypto. While we adhere to the Trust Project guidelines for unbiased and transparent reporting, this content is created by a third party and is intended for promotional purposes. Readers are advised to verify information independently and consult with a professional before making decisions based on this sponsored content.